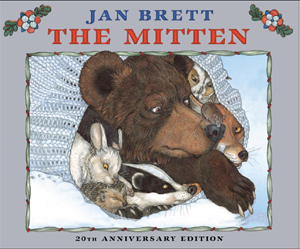 One of the neatest activities I've found for my daycare/preschool kids is the idea of using imaginative play or sensory bins during our FREE time. Yes, it's still guided but it opens the kids up to using their imagination and I love that kids can explore different environments and concepts that we have read about when reading stories. It's storytelling visually and cognitively. Love it! Today we are going to talk a little about Winter Imaginative Play and a few books you can use to teach about animal habitats, texture and even a little sequencing if your careful. =D
Today our theme is Winter Animals & their habitat. I have 2 books to suggest and an example of an Imagination Play Station for you and your kids. I thought I'd start with one of my favorite authors for kids: Jan Brett.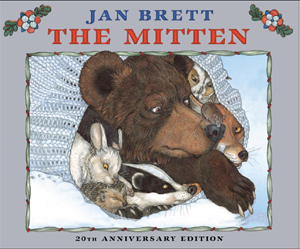 The Mitten
A Ukrainian Folktale
Retold & Illustrated by Jan Brett
ISBN:
978-0399252969
$11.99 (hardback)
About the book:
Set in a snowy forest, the fun begins when, one by one, animals crawl into Nicki's lost white mitten to get warm until the bear sneezes, sending the animals flying up and out of the mitten. On each turn of the page, Jan hints at what animal is coming next in her signature borders, inspired by Ukrainian folk art.
My thoughts:
I love this story and the illustrations draw you right into the story so it feels real to the kids. You can picture the activity in the story and watching the mitten as each animal crawls in is pretty funny. The end result is hilarious! It's sure to become a favorite in your home. When you look at the illustrations the scenes are very lifelike and each page has a border with cut outs showing small scenes of what is coming up next. Click here (if you can't see the page click on the "see inside the book" and then I clicked on "surprise me" and it took me right to one of the pages). This book is a great addition to your library and helps the kids with pre-reading skills such as prediction, comprehension and there is also some suspense and it keeps the kids involved in the story.
Expand your imagination station with a pair of mittens and some of the little animals. Children can retell the story in their own words and stuff the mittens with the animals.
A Warm Winter Tail
by
Carrie A. Pearson
ISBN:
9781607186809 (hardback) $17.95
ISBN:
9781607185383 (soft cover) $9.95
About the book:
Do you ever wonder how animals stay warm in the winter? Well, they wonder how humans do too! In a twist of perspective, wild creatures question if humans use the same winter adaptation strategies that they do. Do they cuddle together in a tree or fly south to Mexico? Take a look through an animal's eyes and discover the interesting ways animals cope with the cold in this rhythmic story.
My thoughts:
A Warm Winter Tail is another wonderful story that teaches kids how animals stay warm in the winter. It also talks about animals who hibernate, what they eat and where they live to some extent. There are also 4 pages where the little fox asks his mother: "How do humans stay warm in the winter? Do they....."
The pictures are full of exciting scenes, the animals are very lifelike even though they are drawings and you can easily include discussion while reading the book to help with comprehension and encourage kids to look for details and talk about what they are seeing. Click Here for my original review.
It's Time to Exercise Your Imagination!
Today I came across a wonderful website called "The Imagination Tree" and one of her "hobbies" if you can call it that is taking miniature things and turning them into Imagination Activities for her kids. She has created

the following scenes:

Farm, Construction

Site

, a Park in the Snow, City in a Box and many others!

These scenes are a combination of a Scensory type activity and also Pretend
Play. Change them out monthly or even every other week and store them in a Rubbermaid Box or empty out the box and store the basic tools minus the snow, sand, dirt, rice or oatmeal which you can reuse depending on the activity box you are making up. (I keep 5 different rubbermaid boxes with the filler and then change out the toys and other things added to make up a theme.) Click here for details on the Arctic Box!
Expand your imagination station with a tail that you can sew out of either fur, felt, yarn (use YOUR imagination) or you can purchase this pattern for $6
. The pattern includes directions for a wolf and a fox. I haven't tried the pattern but I find most of the patterns available from bloggers tend to be very well thought out and easy to do. Click here for the pattern.
Here is another pattern made using a sweatsuit which will keep it inexpensive and easy. Even if you just make the head and the tail I'm sure the kids will LOVE their new Fox Costume. =D click here
I

purchased the following animal sets for the kids to play with and reinact the story of the Mitten and also A Warm Winter Tail.
The North American Wildlife TOOB® contains twelve favorite animals caught in active poses. Included are the Mountain Lion, Wolf, Elk, Big Horn Ram, Bison, River Otter, Raccoon, Pronghorn Buck, Moose, Grizzly Bear and Beaver. Click Here
The Arctic TOOB® contains twelve toys, including furry mammals like the Arctic Fox, Polar Bear, and Reindeer. Arctic swimmers like the Beluga Whale and Orca are also featured, along with a Native Arctic Hunter and an Igloo.

Click Here
I also purchased a couple of "trees" from the Christmas Miniature section at Walmart and added those to my Arctic

Box.
What do you do to encourage Pretend Play

with your little ones?