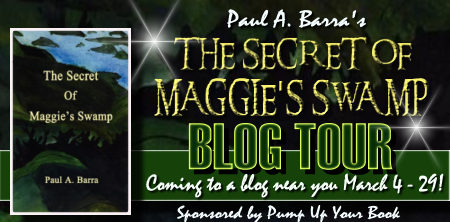 In this middle-grade mystery-adventure, a twelve-year-old girl discovers a grave injustice in the 1980s South when a neighbor is convicted of a crime he didn't commit. Penny must find the courage to use her unique gift – her uncanny ability to foresee the future – to thwart a crazed desperado and find a treasure that will prove her neighbor's innocence.
Poor Penelope Andrews. Her neighbor is being hunted, her friend is comatose after encountering a rogue alligator in a black-water

swamp

, and her mother has formed the wild impression that Penny has some sort of special gift from God! What else could go wrong? Oh yes: the FBI wants to speak with her. And, a dangerous criminal is stalking her.
My thoughts:
The Secret of Maggie's Swamp left me with quite a few feelings after I finished reading it this evening. When I first began reading this and realized how slow the book was going to be I truly thought I wasn't going to like this book ~ but as the story continued, the intrigue built and the mystery of where $500,000 cash went I found I connected with each of the characters in the book

& I ended up loving it.
Maggie's Swamp reminds me a LOT of To Kill a Mockingbird (which I hated) - the story is based in the South, it's very slow and the language in the book are what made me connect the two books. While Mockingbird deals with racism in the 1960's South, this book is set in the 1980's (although as I read I thought it seemed more like the mid 70's) and it deals with someone who is accused and sentenced for a crime he didn't commit. Penny decides to solve the mystery and help this man who has lost his freedom, his family and respect due to one bad decision.
This is an outstanding book & would make a great read for a teen book club or for family discussions in the evening during read aloud sessions. The only thing missing from the book is a series of discussion questions. (I really wish I had been able to feature this book during our Middle Grade Summer Book Club - it would be great for guys or girls

.)
Parents Note: This book references the Main Characters "Gift". Penny has the ability to "sense" things. She isn't fully aware yet what her true gi

ft is and her mother is supportive but doesn't make a big deal of it.
It

seems like she is supposed to be Psychic - or at least has some sort of "sixth sense".

The author does sho

w how Penny "opens her mind" to let the gift happen but that is really about it.
It's an exciting read for children ages 8 through 12. Available in bookstores, on Amazon.com and from Brownridge Publishing.
About the author:
Paul A. Barra is a decorated war veteran, a teacher and a freelance journalist. He previously was a reporter for local newspapers and won numerous awards from the South Carolina Press Association. He was the senior staff writer for the Diocese of Charleston and won numerous awards from the Catholic Press Association, a national organization. Earlier publications include four independent science readers (Houghton Mifflin), a novel ("Crimson Ring," Eagle Press) and a nonfiction book about the formation and success of a Catholic high school, despite diocesan opposition ("St. Joe's Remarkable Journey," Tumblar House). He is under contract for the publication of a historical novel called "Murder in the Charleston Cathedral."(Chesterton Press).
Visit Paul's website at

www.paulbarra.com

.
Disclaimer: I was given a copy of this book to read and review on CCB through the
Pump Up Your Book Blogger Program
. I was not required to have a positive review and no money exchanged hands.