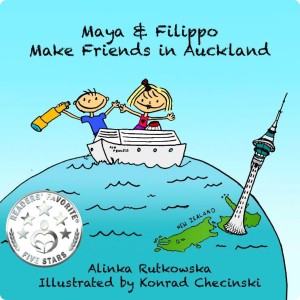 Maya & Filippo Make Friends in Auckland
by Alinka Rutkowska
ISBN: 978-1493626946
$9.63 (paperback)
About the book:
Embark on a one-of-a-kind, unprecedented, breathtaking adventure with Maya and Filippo as they travel around the globe on board the "Fun Princess" — a cruise ship full of surprises. Discover their fascinating ports of call, find out what the local customs and traditions are, join the kids in activities at sea, and explore the remarkable world they create through the power of their positive outlook.
This time Maya and Filippo discover Auckland and meet different kinds of people depending on…read the book to find out! Spoiler alert: the kids ride a big hop-on, hop-off explorer bus, where strange things happen. They stop at the famous Sky Tower, where they do something very exciting.
My thoughts:
Maya & Filippo are two kiddos who live on a cruise ship where they have unlimited chocolate everyday and even in their cereal for breakfast! When they wake up and find there isn't any chocolate to be found - because they ate it all - they start crying and complaining and then their mother encourages to visit Auckland and learn about the city. Along the way through the experiences they have that day t
hey discover that when they are complaining others complain and when they have a bad attitude everything seems to go wrong.
I personally wasn't really expecting to see a book about attitude (which is mostly what this book is about) and was expecting to read a book that told me about the beautiful city of Auckland and New Zealand. So, I was a bit disappointed about that. I would of liked to see a book that showed me more than the Sky Tower and the top level of the bus. But my two kiddos Sierra (4) and Connor (6) didn't seem to mind and we had a nice chat about how our attitude affects others and even how our day goes. We were able to tie it into when one of the kids has a hard morning before they head to school that sometimes it can make their day at school harder - nothing goes right, they get into trouble, etc and how important it is that we listen, are kind to others and that sometimes we can help others with what they are struggling with and it can help that persons day improve.
There are other books in the Maya & Filippo series:
Maya & Filippo Play Chef at Sea
Maya & Filippo Look for Happiness in Tauranga
Maya & Filippo See Impossible Things in the Garden City
Maya & Filippo Learn about Careers in Dunedin
Maya & Filippo Talk about Business in Seattle
Maya & Filippo Look for Whales in Ketchikan
Maya & Filippo Visit a Glacier
Maya & Filippo See Things Differently in Skagway
Learn more about this series online at http://mayafilippo.com/ where you will also learn about Alinka Rutkowska (the author) and her experience as an author.
Disclaimer: I was offered a copy of the book to read and review on CCB in exchange for my honest opinion. I was not required to have a positive review & no $$$ exchanged hands. Thanks for reading CCB!