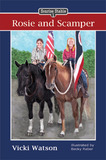 Sonrise Stable: Rosie and Scamper
Series: Book 1
by Vicki Watson
ISBN:
978-0984724208
$9.95 (

paperback

on Amazon)
Age 8+
About the book:
While learning to ride at Sonrise Stable, eight-year-old Rosie dreams of the horse shows she will win with her pony, Jet. Two years later, nothing is exactly the way Rosie planned it—she's riding a new pony, Scamper, and learning that life isn't always easy. But it's as Rosie reaches out to the new girl next door that she truly begins to see that God works all things together for good in our lives.
Rosie and Scamper is the first book in the Sonrise Stable series, heartwarming stories of an extended homeschooling family as they live, learn, and love together. Mixing adventure, life lessons, and realistic horse experiences, the series is a must for readers who enjoy family values, Christian faith, and, of course, horses!
My thoughts:
I have read several Christian Horse Series for kids and I have to say this one I struggled with the most. With the Rosie & Scamper series of books you have an extended homeschooling family that seems to be very "hands on" and close. Of course, this is a good thing - but having grown up on a farm with the freedom to pretty much go anywhere (with the exception of the bull pen and the field the stallion was in) I actually wrestled with reading about all the rules and finding it believable.
That being said, the writing, premise and storyline of the book is wonderful. You have a strong faith presence in Rosie & Scamper and that was delightful. The gospel and salvation story is clearly shared and written in a way that preteens will understand - and it's a great way to open up a conversation with the children in your family without being preachy. This series of books would make a great mother/daughter set to read together and provide the opportunity to openly talk.
Be sure to check out the

website

for the Sonrise Stables series. You can learn more about the series, horses, meet the characters and author and more. There is also a great line of horse jewelry, T-shirts and study guides and if you have a kid that is in LOVE with horses - this would be a great Christmas Stocking stuffer and you won't have to figure out how to stuff a Quarter Horse or Appaloosa in their stocking!
Books 1, 2 and 3 are now available and you can purchase them individually or as a set on the

Sonrise Stables website

.
2 Contests for your child to participate in:
1) Scamper Goes To:

Click here for details
Ends 11/30/12 (must be received)
2) My Horse Did Not Evolve:

Click here for details
Ends 6/01/13 (must be received)
Contest Forms are on the above links.
About the author:
My love of horses began when a teenage neighbor offered me my first ride, on the back of her horse. From my 8-year-old perspective, it seemed like the biggest horse in the world. From that moment on, I was addicted. Horses were to become a very important part of my life, although I never could have imagined, at the time, how much God would teach me about Himself and my relationship to Him through these wonderful animals.
The Sonrise Stable series combines my love of God and horses in stories that I hope will help children learn more about both. I have a vision for ten initial books in the series, taking the main characters through one year. Beyond that I'll see where God leads me.
I have been blessed with three daughters and homeschooled each of them through high school. I enjoy trail riding my Rocky Mountain mare, Nikki, hiking, photography, and playing guitar. I work from home as a web designer and computer programmer and enjoy the variety and flexibility that allows.
Learn more about the author & her books:
Disclaimer: I was offered a copy of this book to read and review on CCB. I was not required to write a positive review and no money exchanged hands.