Do you have trouble coming up with FUN ideas for stocking stuffers? Well,

Thomas Nelson

is coming to the rescue this year on Classic Children's Books. I received a package of several items and thought I'd share them with you....
Princess Bible
ISBN:

9781400320639
$24.99
My Thoughts:
The Princess Bible is perfect for any little girl who loves all things Princessy, glittery and has pretty jewels on it. It's hardback for sturdiness, contains a flap that holds it closed which helps keep the pages neat and hopefully helps them not get bent up as easily. It contains the full-text of the International Children's Bible as well as a 24-page, four-color insert which includes maps, timelines, and other Bible knowledge. My only concern about this bible is the tiny print which might make it difficult for beginning readers to read - but other than that it will definitely be a hit!
More details here
.
One Wintry Night
by Ruth Bell Graham
ISBN:

9781400321162
$14.99 (

hardcover

)
My thoughts:
One Wintery Night is a classic story about a boy who is hiking up in the mountains and ends up staying to long and needs to find refuge for the night. He ends up stumbling on the house where his grandfather lived at one time and stays with the woman who lives there. The story the lady tells him is the Christmas Story beginning with the world God created, the original fall and the reason Jesus was born and died for us. Beautifully told, this book will have a place on my shelves for a long time.
I've been reading this story to my 5 year old in the car while we wait for my 7 year old to get out of school. I'm thinking he's not quite ready for the message the book has to share - but he is enjoying the descriptive text that paints a picture of the world and the gift Jesus gave us. More details here.
The Jesus Series is a series of 3 movies that teach children about the birth, life and death of Jesus. The first movie is the Story of Christmas, animated straight from the popular Read & Share Bible for children, the 2nd movie is about the life and miracles of Jesus and the final DVD covers The Easter Story. Each video is an uninterrupted half-hour presentation of Jesus' life which is animated in an enchanting art style, warm narration, and gentle musical underscore to help children will experience the Christmas story in a powerful way. (
More information
)
This series is also available as 1 long movie on
The Jesus Movie
($12.99) which is 80 minutes long.
Sierra & Connor are only 3 and 5 and I didn't feel they were ready for the 80 minute movie yet so we watched the smaller movies and the kids loved them. The animation held their interest and I've been hearing them make little comments as they play about Jesus loving them which is really cute. I couldn't ask for a better way to introduce the Life of Jesus to my kids.

Note:
Since this post is so long I haven't included the descriptions of each item - you can click on the links in each area and read the full description if you'd like. =D You can also order each item from Thomas Nelson. They are very prompt about shipping your order out and everything came in perfect condition.
You can purchase each of these books & videos, along with bibles, young adult & middle grade fiction & non-fiction, devotionals, baby books and lots more on
http://www.thomasnelson.com. They have so many things I really had a hard time picking just a few to review on CCB. I'm planning on giving the bible to my almost 6 year old niece Jenna - I know she's going to love it. The videos are already a hit in my daycare.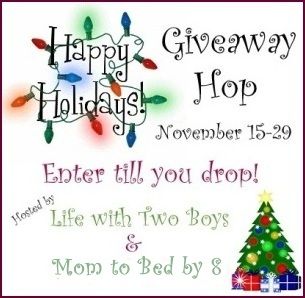 WIN IT:
You also have the option of entering a giveaway during the Happy Holidays Giveaway Hop which starts this Thursday. One lucky person will WIN all of the above for their family to enjoy!
Enter the giveaway here: Click
Enter the giveaway for an Imprint Mat on GivingNSharing here: Click
Disclaimer: I received a package of goodies from Thomas Nelson Publishing and was not required to write a positive review and no money exchanged hands.