It is
character
that will sustain a child, an adult, a family no matter what life throws at you. It is character that will last and it is character that every child needs to develop. Compassion, kindness, integrity, a teachable spirit, self discipline, a servant's heart, courage, faith, joy- these are character traits that every child and every adult can grow in. Our job as parents is to equip our children with character. (from
momlifetoday.com
)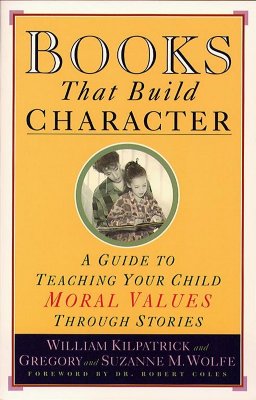 1) Stories create an "emotional attachment" to goodness or a desire to do the right thing.
2) Stories provide good examples of good and bad behavior - and opportunities to talk about it. (Hint: Parents read to your children - even those older kids)
3) Stories familiarize children with codes of conduct that they need to know.
4) Stories help make sense out of life & help make our lives into stories.
My favorite quote from this book is: "unless this sense of meaning is acquired at an early age and reinforced as we grow older, there is simple no moral growth." (I'd actually say "it's very difficult for moral growth to take place.)
Coming to Classic Children's Books:
Watch this week for reviews of the above books and also 2 devotionals for older kids that fit in with the theme of character building as a family.
Character Building poster

to hang on your refrigerator
(there is also a character building guide: Character Crew: Develop Moral Character, click here which includes a verse, activities to use for different ages, story suggestions, a link to an Adventures in Odyssey story, and more)
You might be interested in:
Don't take your children's character lying down. While They Are Sleeping leads you as you lift your kids to God around twelve vital character traits: Five days of prayer and Scripture for each trait, Guided personal prompts for your individual child's needs, Related ideas for connecting with your child, and "Live it Out" application suggestions for your family