I was doing a little hoppin' the net and came across a FUN blog called
Handmade Charlotte
who has a neat little blog that is family oriented and filled with great products and tools for kids - tools that keep them active, engaged, filled with imagination and well, I think she just might be my NEW favorite children's blog.....
She was showcasing this new product for kids - I think it's brilliant! One of the problems with childhood today is it's filled with static time spent on the net or in front of the TV. Much of that time is spent by themselves and I think it's starting to seriously cause problems with kids being able to play & work with others. No longer do our kids know how to work in teams. They no longer have a natural hierarchy of the strong kids to the weaker kids who need to be led. Now, I'm not talking bullying - I'm talking kids that are able to come up with great ideas and the kids who help them succeed with their ideas. I personally believe that kids learn to work together and follow the rules that they will have in the work world.
Anyway, one of the new toys that is being promoted on
KickStarter.com
is the ChalkTrail which attaches to the back wheel of your kids bike (big or small) or scooter. They can then use their bikes to create patterns, lines, pictures - best of all your kids can attach the holder & chalk and Dad - your tools won't disappear because no tools are needed! Check it out: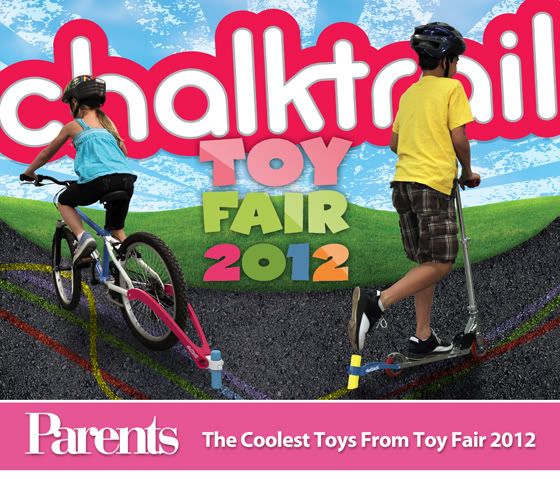 ChalkTrail was created by and has been fully funded on KickStarter and hopefully will be on the market soon. It's a great way to encourage FUN, Safe activity outdoors - no TV or other supplies necessary except a helmet of course. It's also considered by Parents.com as one of the Best Toys of the 2012 Toy Show!
The Deets:
Cost: Bike $24.99, Scooter $14.99, replacement packs: $7.99
It uses non-toxic, washable chalk, works on all sizes of bikes (yep, mom and dad can use it too) and scooters.
Pre-order your Chalktrail now and get in time for summer!
http://kck.st/zQ1WJp
I think these are going to be very popular, would make a great birthday gift or even a fun gift for surviving the school year - it's time for play!