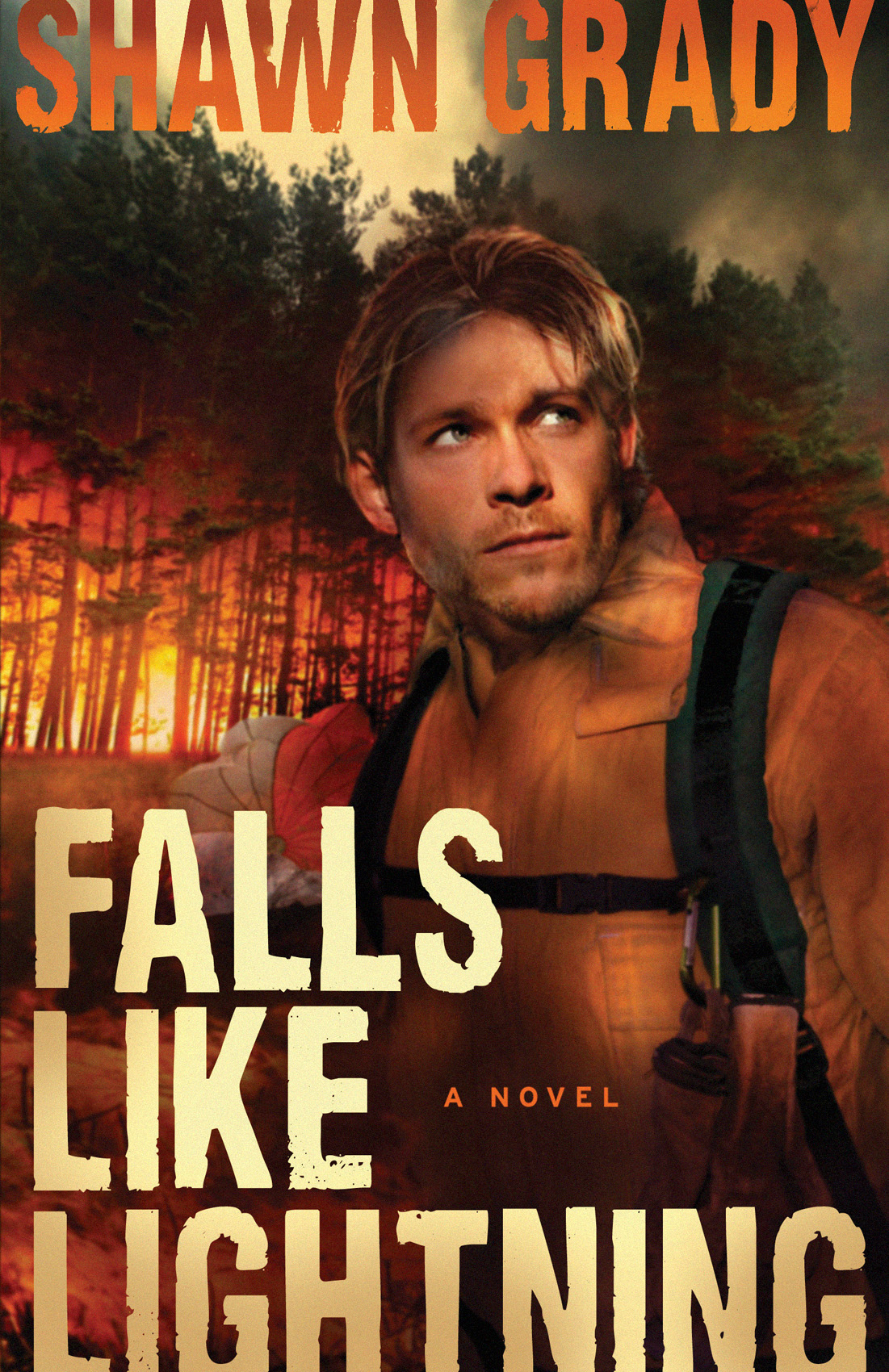 Falls Like Lightening
by Shawn Grady
ISBN: 978-0-7642-0597-2
Purchase on Amazon for $10.08 here

About the book:
Smokejumper Silas Kent never expected to see pilot Elle Westmore again. In fact, reuniting makes him realize what a mistake he made all those years ago. But before he has a chance to try to make amends, he's called to lead a new crew into battle against a massive fire in the Sierra Nevadas.

And then things go very wrong, very quickly.

A suspicious engine explosion forces the crew to parachute early while Elle barely survives a crash landing. Silas reaches the ground safely but in beginning a desperate race to reach the downed plane, he soon realizes he has more to fear than just a raging forest fire.

My thoughts:
I really enjoyed this book. I love a good thriller that's clean, fast moving and energetic. Silas and Elle are former boyfriend/girlfriend and as their relationship grew Silas got cold feet and left town. He had a good reason as he was an orphan and had never known a family but instead of talking it out with her and letting her know his feelings he just left and of course she ended up marrying another man on the rebound.

The story believe it or not is not about this relationship but their relationship rekindles when they meet again. Elle is now a pilot who flies the firefighters over the forest fighters and gets them to where they need to be to fight the fires they are assigned to. Silas has just been assigned as the lead spotter of a team who just lost one of their men. The trick here is that this team has murdered one of their team members and they are planning to return to this area in the fire to extract a huge cache of gold.

I actually think this book is even better than the other book that I reviewed by this author Tomorrow We Die. You can read the review on that book here. I did really enjoy both books though. I recommend this book for teens 14/15 and up. There are scenes that include murder (what good murder mystery thriller doesn't?), men who just don't care about life.... etc (so at least read the book first if you are going to let your younger teens read it). There isn't any language, love scenes although there is one part where Silas ties a "ring" on her finger and he starts with her left ring finger and she tells him that finger is reserved. I thought what a great way to let someone know that marriage is sacred to you and it was so nice to see a guy who is respectful of her choices.

About the author:
Shawn Grady has served for over a decade as a firefighter and paramedic in Reno, Nevada, where he lives with his wife and 3 children. He is the author of Through the Fire and the thriller Tomorrow We Die, a book Romantic Times declared "a definite page-turner".

Books – Find out about Shawn Grady's novels- Through the Fire, Tomorrow We Die & Falls Like Lightning - You can also order them online through Amazon here if you'd like to help fund this review blog - thanks so much!
Much thanks to Bethany House Books for providing a copy of Falls Like Lightening to review on Family Literacy no money exchanged hands and I wasn't required to write a postive review. Thanks!