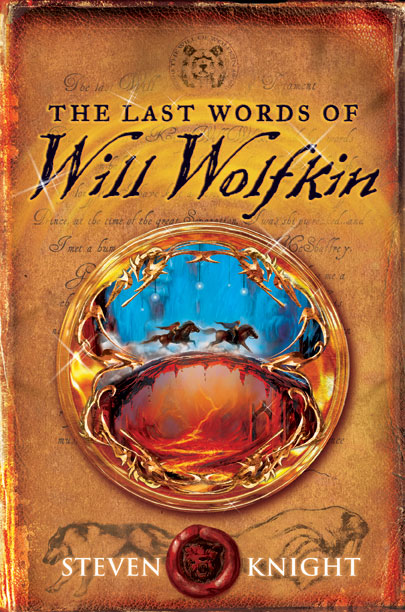 The Last Words of Will Wolfkin
by Steven Knight
Age Range: 9-14
Published by Harper Collins for Children
ISBN 13 9780062001504
ISBN 10
0062001507
Kindle Book: $9.99
Hardback: $4.19
"It's funny. If you're born a certain way you don't really understand how it is to be any other way."
So it was for Toby Walsgrove—paralyzed since birth, unable to move or talk with no known family, he has spent his entire life at a Carmelite convent in London. That is, until the day that his cat, Shipley, starts talking to him. Shipley has been watching over Toby his whole life and tells him they must go to Langjoskull, a city of exiles buried deep below the surface of Iceland. Because Toby is no ordinary boy—he's a descendant of the great king Will Wolfkin, and his kingdom needs him.
Toby has never wielded a sword that can stop time. He has never shifted into his kin creature. He has never even walked on his own two legs before. Ready or not, though, he has a destiny, a responsibility, even a family—and not all of them are happy to meet him....
I loved this book!
You've got the Fell who are similar to elves, shape shifters, wizards, and adventure - what more can you ask for? It's LOTR's for kids about 9/10 and up (and MUCH easier to read!). Toby is a boy living in a convent in East Finchley, London. Completely paralyzed since birth, abandoned by his mother, raised by Sister Mary who is a nun who loves him and makes the effort to read to him, talk to him, feed him and be someone who is visible in his life.
The beginning starts a little slowly as the book opens with Toby in his chair, paralyzed, Sister Mary reading to him and watching for the little birds, "Look and Leave", that migrate and live outside his window. That is Toby's life with only the occasional trip outside for long walks in his chair. He has NO friends, except for Shipley, the cat.
One night Toby is awakened by a boy who gives him a gift of speech and movement and tells him that the time has come. He is needed to save his (many, many greats) grandfather's kingdom and that he must come with him. (Keep in mind Toby has NEVER moved, walked, sat up or even held up his own head.) Follow Toby and his new friend to Iceland and below the surface into another world - one of shapeshifters, wizards, Thrulls, Fells, fellish power (magic) and a war for the Kingdom of Langjoskull all based on the final words of Will Wolfkin 100 years before. There are battles, swords, lava, geysers all leading up to the final battle, a battle to the death and the ultimate prize - either freedom or slavery for Langjoskull.
It's an outstanding book - and I'm seriously hoping a sequel is in the future. I'd love to read more of the adventures of Toby and Emma (his long lost sort of sister) the last surviving descendants of the great King Will Wolfkin. Each kid has a purpose and the ability to save the kingdom - but only by working together.
This would be a GREAT gift for boys/girls that enjoy fantasy, sci-fi or just loved to read adventurous books.
Steven Knight is an Academy Award nominated screenwriter (credits include Dirty Pretty Things and Amazing Grace).
The Last Words of Will Wolfkin
is his first book for children. He lives with his family in England.