When Molly Was a Harvey Girl
by Frances M Wood
Published by Kane Miller Publishing
$15.99, Age 10-14, 234 pages
Order Here
About the book:
...she absolutely did not want to move to New Mexico. The wild west was where the creatively dangerous went to remake themselves. Molly hadn't a suspicion that she was going to fit right in.
When Molly's father dies, it's up to her nineteen-year-old sister Colleen to keep a roof over their heads. Unfortunately, there's not much money left, and ever fewer options. She dresses thirteen-year-old Molly – luckily, Molly's tall – in women's clothing (even a corset!) and applies for jobs for both of them at the Harvey Eating Houses, which feed the popular Atchison, Topeka and Santa Fe Railroad. To Molly's dismay, the plan works! She finds herself far away from her friends and her almost-sweetheart back home, smack dab in the heart of the Wild West. But Molly has a plan....
My thoughts:
I thought this book was wonderful. It's an easy read, very well researched and it's interesting to learn about the culture and attitudes of Turn of the Century (1900's) America. Molly and Colleen show a strong contrast in maturity with Colleen having grown up raising Molly since their mother died when Molly was 3 and Colleen was 9. Their father was a successful business man and both girls grew up in a comfortable home with a housekeeper and everything they probably could want - although Molly and Colleen are not spoiled rich kids.
The book opens up with the death of their father and Colleen decides to answer an ad in the paper about becoming Harvey Girls. Harvey Girls were held to a very high standard, to behave a certain way and to work very hard, fast and in an efficient manner. The restaurants were set up at Train Stations and served meals to travelers along with men who lived in the community. Molly and her sister were sent to work in a Harvey House in New Mexico, where Molly had to act like an 18 year old, wear her hair up, a corset and work as hard as any adult. (I thought she did a wonderful job and can't imagine a kid as young as she was to work as hard as she did)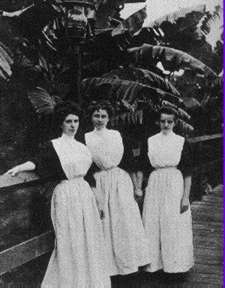 The book includes passages about prejudice of the West (the Indians) and Molly ends up being friends with two kids that work in the kitchen who are part Indian and part Mexican. I thought it was handled very well in the book and Molly stands up for what's right. She also goes to Buffalo Bill's Christmas party for poor children where she gets a whistle and rides a wagon. She sleeps on one of the sleeping cars of the train for the first time and learns to cook by a Cajun Cook who works in the Harvey House and rules the kitchen in a mixture of French and English.
I highly recommend this book for families with teens and preteens as young as 9 years old. It would be a great read aloud book too.
Read an excerpt
Discussion Questions
About the author Frances M Wood (from Goodreads.com) :
I was once a librarian, then I was a librarian/writer, and now I'm simply a writer. I have a new book coming out in May - When Molly Was a Harvey Girl. It's a novel that was inspired by, although not based on, the life of my great-grandmother. In the late 1800s she left her safe home in Illinois to venture into the wild, wild west. NOT the kind of thing most nice young ladies did at the time! I wish I knew more about my great-grandmother. But because I don't, I made up a story about 'Molly Gerry' and her sister, 'Colleen'. Kane/Miller is my new, and wonderful, publisher.
You can learn more about her books on her website.